Cristiano Ronaldo


will sign for
Real Madrid
after July for
80mil Euro
.
Manchester United has signed agreements with Real Madrid yesterday.
finally, they've agreed to transfer Ronaldo. He's free now.. like he wanted. well, i don't know what exactly going to happen to Man U after this.. will Man U stay on top without CR ? with Carlos Teves is linked to go to
Liverpool
,
will there be any "
Glory Glory Man United
" ?? the question remained unanswered.. plus, Sir Alex Ferguson, Man U manager, will retire next season.. during the match against Man City last Sunday, Ronaldo was furious after he was subbed by another player after he scored the free kick. He was raged at Fergie. same as last time, as what was reported, Ronaldo was treated like a servant by the United. he calmed down after they agreed to buy a Bentley for him. he's been linked for transfer since last year, but nothing has happened. but now, it's happening. sorry Man U fans, or should i say Ronaldo fans, he's moving... so what will the Ronaldo "lovers" do... ? support Real Madrid now ?? LOL.
wait and see ;D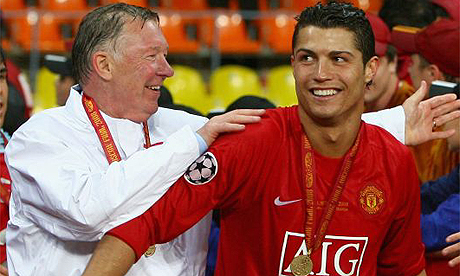 This will only remain as MEMORIES soon..
" goodbye Sir, goodbye Man U... and goodbye England.
Madrid, here i come.. for Real ! " LOL.