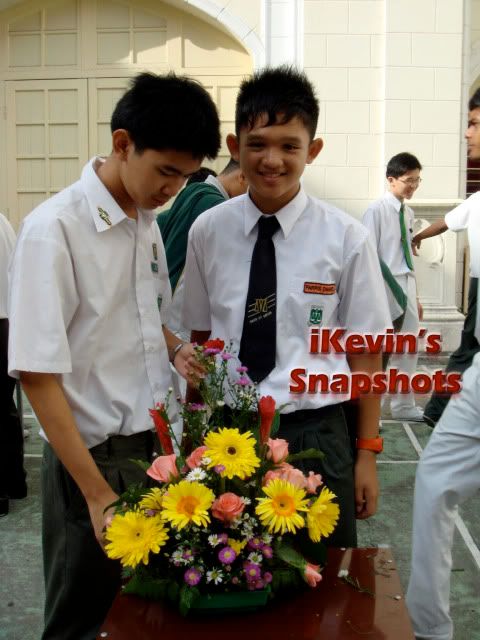 credits to seng hoo for this pic.
ahaha me, farris daniel as a flower boy ? funny rite. well, just trying my luck with flowers..
MY FIRST TIME MAN
! tell me, is it okay ? for a beginner laa... hahah x) i decided to join flower arrangement for the smi's speech day cuz like i said, trying. second, cuz i want to do something on behalf of the smi's debators club. pity, no one wants to participate. so i
jambu-ly
raised my hand saying "take me lah mr. rajan." he said "oh, okay good good. so u and joel ahh.." so happy. haha kesian that fella asking
, but all kept quite and slowly hiding their hands. haha.. im a bit blurred in the beginning. donno what to do. so i started by cutting the flower half to make it shorter. joel arranged in the beginning. then after done cutting, i got some kind of idea.. and it helped a lot.. haha together, we made the flower looked beautiful ;D yeah, we didn't win.. but at least, an experience would do... rite ? so, with that, i've planned, base on what the other participants had done.. i might be returning as the flower boy, again next year.. for a spot, yeah ! haha hoping to win ;D cuz i felt like it brings joy by doing this arranging thingy.. haha.